Help Josh in raising £500 to Support GFM96.6 and GRASAC
Written by adminCarol on August 25, 2020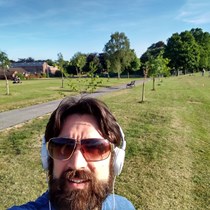 We're raising £500 to Support GFM96.6 and GRASAC by walking the 180 mile/300km Pembrokeshire coastal path.
GFM96.6 provide a valuable service to the community in Gloucester. I have been privileged to be a member of the GFM family. It helped me massively in the past and I would like to give something back. As we have seen with the Black Lives Matter Movement there is a need for people to support black run businesses, and to amplify voices from that community to hear different people's experiences as well as support people into the media roles that will help this in the future.
Gloucester Rape and Sexual Abuse Centre provide emotional and practical support to both female and male victims and survivors of rape, sexual assault and childhood sexual abuse. This is something that happens to far to many people in our society as a whole. This great organisation works to bust myths, support people, work to raise awareness, and well as supporting survivors.
Click the JustGiving image link below or click here

---