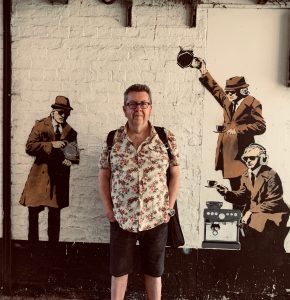 Name / Stage Name: Joey Coyne
Show Title & Genre: Soul Steppin, RNB, Soul, Funky House & Smooth Jazz
Interests & Hobbies:
Making good radio shows
Musical Background/History:
Joey has worked in the radio and night club industry for 3 decades
He has done various shows for BBC Local Radio and presented shows on soul stations like Solar radio and Starpoint Radio
Joey has also held resident DJ slots including Birmingham for 3 years, Nottingham 4 years, Bristol 7 years, Swindon 3 years, and all the best clubs in Gloucestershire.
He also worked in Sweden for 6 months in the heart of Goteborg, which he really loved. Joey said it was a 'great city with great people!'
His biggest memory was playing the music for Stevie Wonder at an end of tour party in Birmingham.
We are really delighted that Joey will be producing the show for us at GFM
How did you get involved with GFM?
Jerry Hipkiss
Achievements:
3 wonderful kids
Musical aspirations:
To write a good song
3-5 Most Influential Tracks:
Changes day to day
Message to GFM Listeners
Carpe Diem…
---