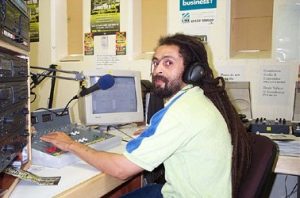 Presenters Name
Glenn Brown / Daddy G
Show Title / Genre
Drive time show a mix of new & classic reggae, rnb & soul for the young and old
Interests & Hobbies
Collecting music / djing/ sound systems/going to gym
Musical Background / History
started play music on the old gram at the family home in tredworth when i was kid. In 1990 me and some friends formed the black inner city entertainment crew (black i.c.e crew)playing at house & blues party's around gloucester bringing the freshest tunes to the city. I went on to build my own sound system (black ice sound) one of Gloucester's leading sounds to this day.
How did you get involved in GFM?
From the gram to the sound system to the vibes to gfm natural progression. big up gfm family.
Achievements
15 years sound man, 4 years as drivetime presenter, worked with many top named uk and ja djs and artist.
Musical Aspirations
I'll just keep on doing what i'm doing.
Most influential tracks
Music lover inspired by many different tracks & types of music.
Message to GFM Community
Glad u enjoy what we got to offer, thanks for supporting me and gfm.
---