---
Elder Saunders shows
---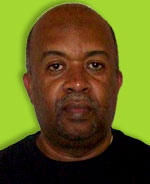 Presenters Name
Anthony Saunders/Elder Saunders
Show Title / Genre
Family Time
Interests & Hobbies
Lay preaching
Volunteer community work
Reading
Musical Background / History
My musical background is gospel music and along with that would be Reggae music/Bob Marley
How did you get involved in GFM?
Firstly a listener, then as a guest on the Community Link Show,
also doing promotion for my local Church.
Achievements
Doing mc for track and field championships in Jamaica.
Hosting major media houses at press conferences in Jamaica as co-ordinator for a football competition.
Musical Aspirations
Greater competence in providing inspirational music to the Gloucester community
Most influential tracks
Bob marley / Redemption song
A song for mama / Boyz to men
Love can build a bridge / The Judds
Message to GFM Community
To the Gloucester community my message is because we care we share.
Togeather we hope share our experiences as we seek to support our families.
---